Privacy is 'in'
The digital world as we know it is changing. As privacy continues to become a bigger concern for us and our children, the internet will become a safer place for everyone. Below are some of the top articles shared over the course of 2018 - take a look as we are a part of an ongoing privacy revolution!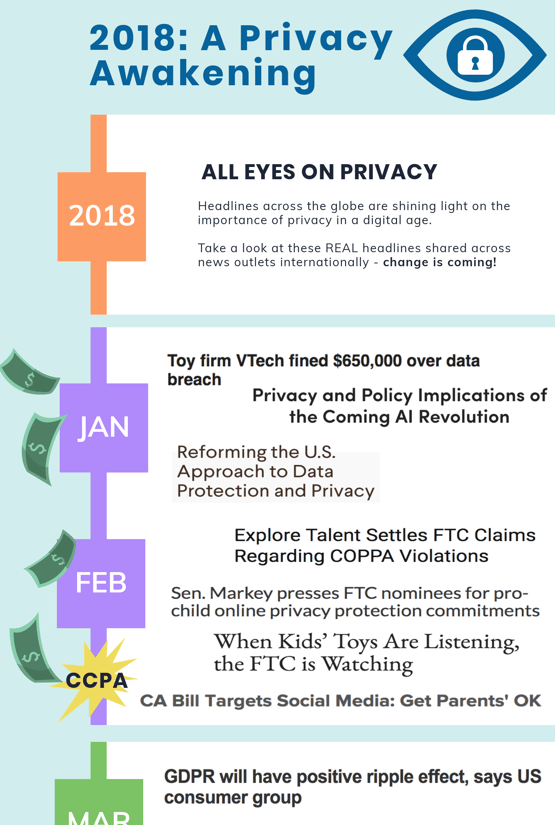 View the whole infographic here.
A Privacy Awakening
A Long Awaited Privacy Awakening is Here Read more
Apple's Tim Cook Calls for More Regulations on Data Privacy Read more
After Facebook hearing, senators roll out new bill restraining online data use Read more
More Than 100 National and State Leaders Call on Congress to End Children's Private Data Collection Read more
Apple cracking down on applications that send location data to third-parties Read more
Congress, Privacy Groups Questions Amazon's Echo Dot for Kids Read more
Congress has a $95 Million Proposal to Study Tech's Effect on Kids Read more
Children Online
When Kids' Toys Are Listening, the FTC is Watching Read more
Mark Zuckerberg Dismisses Online 'Privacy Bill of Rights' for Kids Read more
Thousands of Android Mobile Apps Improperly Track Children, Study Says Read more
Voice Assistants aren't Built for Kids — We Need to Fix That Read more
Children are being 'Datafied from Birth' Read more
Kids' Toys are the Latest Battleground in the Online Privacy Wars Read more
COPPA
2018 was a record shattering year for COPPA fines & penalties. Online privacy is "in" and it's here to stay - especially regarding children. 2019 will bring even more regulations, fines & penalties, it's time companies targeting children clean up their act as fines start surpassing millions.
Largest COPPA Penalty Ever – NY AG Settles with Oath (Formerly AOL) Read more
Privacy Is Only a Laughing Matter on HBO Comedy 'Silicon Valley' Read more
Big Government? FTC Advocates for More Authority in Congressional Hearing Read more
Happy Birthday, COPPA - 20 years since Congress passed the Children's Online Privacy Protection Act Read more
Toy firm VTech fined $650,000 over data breach Read more
Explore Talent Settles FTC Claims Regarding COPPA Violations Read more
A.G. Underwood Announces Record COPPA Settlement With Oath – Formerly AOL – For Violating Children's Privacy Read more
The EU GDPR
The EU General Data Protection Regulation came into action May 25, 2018. Since then it has taken the world of digital privacy by storm. Here are some of the top articles since the legislation was enacted.
GDPR: 8,000 Data Breach Reports Filed So Far in UK Read more
Europe's New Privacy Law will Change the Web, and More Read more
GDPR will have positive ripple effect, says US consumer group Read more
UK Data Protection Complaints more than Double under New GDPR Rules Read more
The New Rules: Establishing Consumer Trust in a Post-GDPR World Read more
Facebook could face $1.63bn fine under GDPR over latest data breach Read more
The CCPA
The GDPR is followed by the California Consumer Protection Act (CCPA) of 2018 which comes into force at the start of 2020. Both regulations have similarities including around the processing of personal data and special provisions for children.
New Online Privacy Legislation in California Could Head Off Proposed November Referendum Read more
Understanding California's Game-Changing Data Protection Law and its Global Impact Read more
Top Research & Reports
FOSI: "Online Safety Across the Generations" Read more
Virtual Reality 101: What You Need to Know About Kids and VR Read more
Trouble in Toyland: The 33rd Annual Survey of Toy Safety Read more
Home Life Data and Children's Privacy Read more
Student Privacy
How Third Parties can collect Student Data Without Parental or Individual Consent Read more
FBI Issues Warning for K–12 Schools on Student Data Privacy Read more
Industry
AR Companies have grown 50% Since the End of 2017 Read more
A New Reality: Could VR Revive the Amusement Arcade? Read more
New Data Bill has Bad News for Google, Facebook Read more

76 Percent of Parents Concerned For Children's Online Safety Read more
Social media firms face £18m fines if they send children notifications at night Read more
The Coming Wave of Data Privacy Compliance Challenges Read more
Get Ready for a Privacy Law Showdown in 2019 Read more
The Best of PRIVO 2018
GDPR Age of "Digital" Consent Read more
Tech Giants Cannot Turn a Blind Eye to Privacy Read more
The GDPR and the California CCPA: How Do They Compare? Read more
Guest Blog: How the Tech Revolution is Impacting Children with Additional Needs Read more
PRIVO On-Demand Webinar - Digital Fireside Chat: COPPA and the Changing Regulatory Landscape Read more
Two Hat Security Webinar: The ROI of COPPA featuring PRIVO View here
20 Most Promising Identity Governance and Administration Solution Providers - 2018 View here

Click to Tweet
A big thank you to all news sources included in our 2018 year in review. To stay on top of digital kids industry news looking at online privacy, data security & latest trends sign up for our enews here.