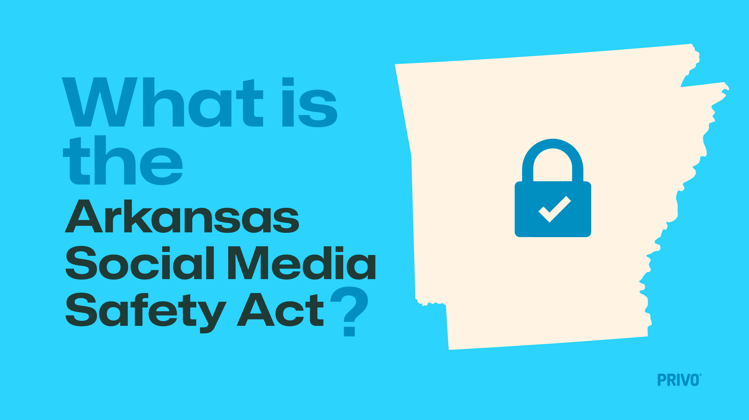 What is the Arkansas Social Media Safety Act?
Arkansas to Regulate Children's Social Media Use with Age Verification and a Private Right of Action
Arkansas is the second state to restrict social media use by children. Newly approved Act 689, also known as the Social Media Safety Act, comes into effect September 1, 2023, requiring age verification and parent consent for user under 18 for newly created social media accounts.

Violations carry fines of $2,500 per offense, court costs and reasonable attorney's fees as ordered by the court or damages resulting from a minor accessing a social media platform without his or her parent's or custodian's consent.

The Social Media Safety Act says it can help protect children from harmful effects of social media. The opposition says the Act raises privacy, free speech, and enforceability concerns.
Here are some of the key requirements:
Contract with third-party vendors to perform age verification checks on new users, regardless of whether they are minors, which includes providing a digitized identification card such as a driver's license, government-issued identification or "any commercially reasonable age verification method."
For users younger than 18, the platform must obtain the express consent of their parent or legal guardian to open an account for them.

A commercial entity or third-party vendor shall not retain any

identifying information of an individual after access to the social media

platform has been granted.
Who needs to comply?
The Act will apply to social media companies that operate social media platforms and have at least $100 million in annual revenue. "Social media company" is defined as an online forum that a company makes available for an account holder to:
Create a public profile, establish an account, or register as a user for the primary purpose of interacting socially with other profiles and accounts
Upload or create posts or content
View posts or content of other account holders
Interact with other account holders or users, including without limitation establishing mutual connections through request and acceptance
"Social media company" does not include:
Media companies that exclusively offers subscription content in which users follow or subscribe unilaterally and whose platforms' primary purpose is not social interaction
Media companies that exclusively offers interacting gaming, virtual gaming, or an online service, that allows the creation and uploading of content for the purpose of interacting gaming, entertainment, or associated entertainment, and the communication related to that content
Services or applications that provide email or direct messaging
Online shopping or e-commerce if the interaction with other users or account holders is generally limited
News, sports, entertainment, or other content that is preselected by the provider and not user generated, including without limitation if any chat, comment, or interactive functionality that is provided is incidental to, directly related to, or dependent upon provision of the content
A company that:

Offers cloud storage services, enterprise cybersecurity services, educational devices, or enterprise collaboration tools for kindergarten through grade twelve (K-12) schools
Derives less than twenty-five percent (25%) of the company's revenue from operating a social media platform, including games and advertising
Provides career development opportunities, including professional networking, job skills, learning certifications, and job posting and application services
Provides only licensed media in a continuous flow from the service, website, or application to the end user
Does not obtain a license to the media from a user or account holder by agreement of the streaming service's terms of service


Need help navigating the Arkansas Social Media Safety Act? Contact PRIVO for expert guidance, support and tools to comply by clicking here.