We still haven't developed the perfect way to navigate life in a digital world, but we're all hyper-aware of the need to do so. And while conversations around best practices for protecting children online are well underway, most people are not aware of what kids are really being exposed to online.
Cyberbullying, mental health, sexual content, self-harm/suicide, drugs/alcohol, and violence were among the top issues that kids were dealing with online in 2018. Within that time, Bark analyzed over 900 million messages across texts, email, social media, and school-issued Google and Microsoft accounts of over 2.6M children ages 8-17. Here are some key takeaways.


Cyberbullying
Getting their lunch money stolen is among the least of kids' worries in the 21st century. Bullies today can hide behind screens and send hurtful and threatening messages through a plethora of social media platforms. Cyberbullying can follow kids wherever they bring their devices, which can cause round-the-clock anxiety.
Mental Health
Whether access to technological devices is a symptom or cause of anxiety/depression is still up for debate. But one thing is certain: teens and tweens are both struggling with and talking about mental health-related issues in record numbers.

Sexual Content
Gone are the days of handwritten love letters. Today, kids are sharing explicit sexual messages and images through texts and direct messages. Some may be consensual, but many are unsolicited. The dark side of sexting can lead to sextortion/exploitation and revenge porn.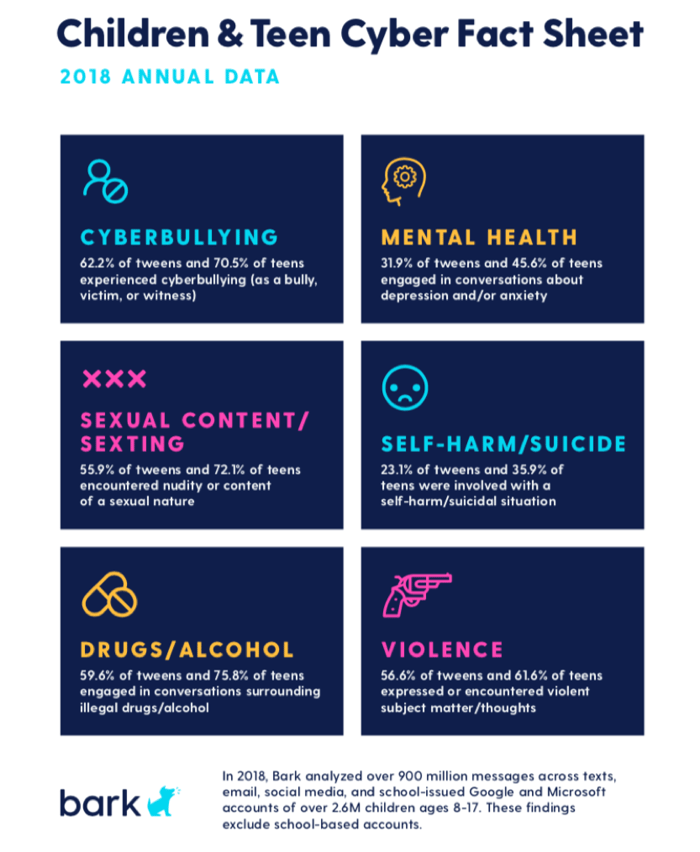 Self-harm/Suicide
Now the second leading cause of death for youth ages 10 - 24, suicide has become a nationwide epidemic. In 2017, 1 in 10 high school girls attempted suicide - the highest number of suicide attempts in 40 years. Warning signs of suicidal ideation often hide deep within children's devices as they text friends or post to social media. Unfortunately, many times, parents aren't even aware that they're struggling with depression or thoughts of self-harm.
Drugs/Alcohol
Experimentation is still a rite of passage for kids today, and technology has changed the way kids access and consume drugs and alcohol. Feelings of peer pressure and FOMO (fear of missing out) are heightened when kids believe "everyone is doing it" because of what they see on their best friend's Finsta (fake Instagram).
Violence
The negative effects that guns and violence can have on our communities — but especially our children — are no secret. Regardless of the causes of mass violence, it's worth reflecting on the fact that most school shootings are documented online before they happen.
Our data paints an eye-opening picture of the online world that many teens and tweens face today. But with industry experts, community leaders, parents, and schools working together, today's youth stand the best chance of staying safe online. In addition to downloading our fact sheet to share with others, here are a few more ways you can protect children and spread awareness about how to help keep them safe.

How You Can Help Keep Your Kids Safe
Make sure your kids choose non-identifying screen names. Kids typically don't see the harm in giving out their information freely and having a screen name with personal or identifying information in it. Parents should never allow their kids to set up profiles without supervision. The wrong screen name could contain information about a child's birthday, school, or even where they live. Not only is this information dangerous in the wrong hands, but hackers can easily use it to answer security questions in order to gain access to their online accounts.


Talk to your kids about who they're talking to online. Online games and messaging apps can give internet predators instant access to direct communication with kids. The first step to preventing a potentially dangerous situation is having an open dialogue with your child, reminding them that the definition of a friend is someone that he or she knows and has met in real life. Over time, kids can become convinced they are in a relationship and can be talked into sharing inappropriate images or videos. This digital content can then be used by the predator as leverage to make the child do whatever they desire — including to arrange a meet-up in real life. It's important for parents to talk to their kids about the people they encounter as their social networks grow.


Host a Tech Night at a local school. Parents and schools are both invested in making sure their children are being safe online. And while they may approach digital issues with different perspectives, they share an interest in preparing them for the future in any way they can. One of the best ways to bring parents and schools together is a Tech Night. Ask parents for their tech-related questions and concerns prior to the event. This can help you develop programming that will benefit families the most.


---
Bark — The Internet Safety Solution
Bark can monitor your child's texts, emails, YouTube, and 24+ social media platforms, scanning for signs of potential issues like cyberbullying, self-harm, violence, sexual predators, and more. We offer a free, one-week trial for interested parents and Bark for Schools is always free. Click here to learn more about Bark and sign up to help keep your kids safe online and in real life.